The 20 Best Adult Coloring Books (With Swear Words!)
Coloring books are no longer just for children. Researchers and art therapists alike have been saying this for years — explaining that the activity has a brain-quieting, stress-reducing effect on people. Nonetheless, just recently have adult coloring books gained mainstream popularity.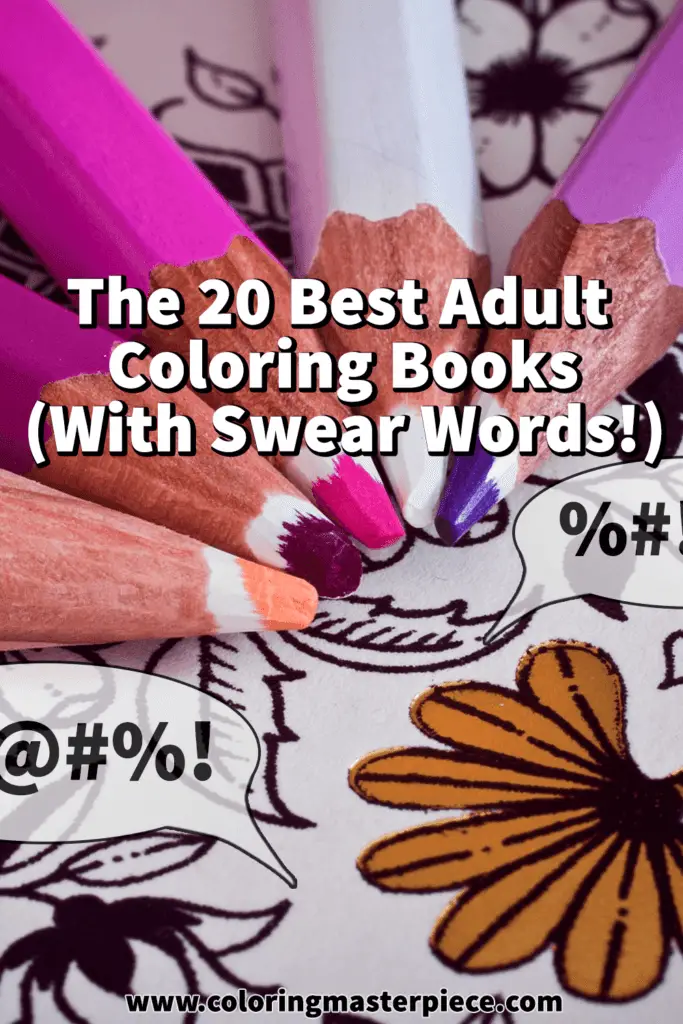 Given the new adult coloring books' craze, it was only a matter of time before adult coloring pages featuring your favorite swear words were published. Here, we will go over a list of the top 20 adult coloring books (with swear words!) to help you relax, unwind, and pass the time:
1. Swear Word Coloring Book
A #1 bestseller on Amazon.com, Swear Word Coloring Book features over 30 original designs for you to color. Each coloring page has a different inappropriate word accompanied by flowers, animals, or patterns. 
The designs vary in nature to ensure there is something for every skill level. Additionally, the book is suited for every medium, including pens, pencils, markers, and crayons. 
"I love this adult coloring book trend. And I thank the publishers for having a sense of humor when putting this book out. It is just pure fun!"
Price: $7.97
2. You Are Amazing As F*ck!
Another Amazon.com bestseller, this book contains 25 pages filled with hilarious uncensored expletives, graphics, and phrases. Designed to relieve stress and keep you entertained for hours, You Are Amazing As F*ck! includes pages for every skill level. 
"This coloring book is a lot of fun and always lightens the mood. I ordered this for an office breakroom, and everyone loves it! The quotes are funny and surprisingly motivational."
Price: $5.99
3. Swear Word Coloring Book by Adult Coloring World
A swear word coloring book containing 40 coloring pages with expertly illustrated cursing designs. All pages are single-sided to avoid bleed-through and can be removed easily for framing. 
The book is suitable for all mediums, from colored pencils to marker pens. It makes an excellent gift for someone with a good sense of humor! Plus, if you know an expert colorist, they will love the blank coloring pages at the back of the book designed especially for color testing. 
"Super fun coloring book for adults. After a terrible day at work (I work in customer service, so some days suck), I enjoy being able to relax and color a wildly inappropriate page."
Price: $7.99
4. Swear Word Coloring Book: The Jungle Adult Coloring Book
A book specially created for people who have a subversive and irreverent sense of humor. It includes 20+ original swear word coloring pages, each printed on a separate sheet to avoid bleed through. 
What differentiates this book to others, is that each swear word on the book features a different jungle animal or flower accompanied by an intricate pattern. 
"This is my fourth sweary coloring book, and it is by far the best one so far. I say this not because the curse words are cruder or elaborate, but because it's impressive as a coloring book."
Price: $4.99
5. FUCK OFF: Swear Word Adult Coloring Book
Fuck Off is an innovative coloring book that merges mandalas and expletives, offering endless hours of relaxation and mindless meditation. It features 50 illustrations, all designed to relieve stress, relax, and inspire. Plus, it is very reasonably priced!
"Love this coloring book. There are so many pages, and they are all different! But, note that ink from markers may bleed through."
Price: $4.99
6. You Are Fucking Awesome!
An inspirational coloring book for adults made up of 25 single-sided designs with curse words for you to color. The illustrations range from simple to intricate —making it perfect for all skill levels. 
It was created for women, but everyone can relate to the phrases that are featured. Here, you will find inspirational quotes such as "You are Fucking Awesome," "Make Life Your Bitch," and "Rise and Fucking Grind Sunshine."
"I love this coloring book. I usually curse like a sailor, and it has become a running joke, so finding a coloring book with curse words just made my day."
Price: $6.99
7. Calm the F*ck Down: An Irreverent Adult Coloring Book 
Described as an 'irreverent adult coloring book,' this book includes 21 single-sided pages and test pages to try out color combinations. It is on Amazon's best-selling adult coloring book list and has sold thousands of copies worldwide. 
The designs featured in the book range from moderate to complex in detail and include beautiful abstract doodles, animals, people, fairies, and more. 
The quotes created by Sasha O'Hara include expressions like "Home is where the vodka is," "Suck it up buttercup" and "Something to do until Valium kicks in."
"This book will do exactly as it says. It will help you calm the f *ck down. The book is awesome, and the images vary significantly, so there is something for everyone."
Price: $4.99
8. F*ckity F*ck F*ck F*ck
A high-quality coloring book with dozens of swear words to keep you entertained. All designs featured in the book are very detailed and include beautiful patterns. Expect to find phrases like "Wanker," Douchecanoe," "Thundercunt," and more. 
All pages are printed single-sided on bright white paper, making it perfect for all art mediums. Plus, there are a couple of color testing pages for you to experiment on! 
"Love love love it…. the cover alone sets it apart from the rest. Just a higher quality coloring book."
Price: $6.99 
9. BULLSHIT: 50 Swear Words to Color Your Anger Away
An adult coloring book created by Randy Johnson designed to help you release your anger through the art of coloring. It includes 50 designs with cursing, swearing, and put-downs to keep you entertained. 
Each page is printed on high-quality paper and single-sided sheets for comfortable drawing. Additionally, all designs are over a black background to make your artwork pop. 
"I ordered several of the cuss word coloring books, and this is one of my favorites. The designs are creative and varied."
Price: $4.99
10. The Art of Not Giving a Fuck
The Art of Not Giving a Fuck is described as a "callous adult coloring book of disregard." It contains 20 original hand-drawn and uncensored coloring pages for you to unwind. 
Each coloring page is one-sided, so you will not have to worry about bleed-through when using mediums such as watercolor or markers. Sayings range from simple to intricate and challenging for all skill levels (or to suit your mood.)
The artist has also included a PDF with all the letters of the alphabet made into beautiful hand-drawn illustrations for you to create a customized message. Also included are a few "blotter pages," including a color palette practice sheet for you to test your colors before using them. 
"A book of sassy uncensored adult sayings with attitude. For all those times you wish you can say something and can't. A great and funny way to relieve your stress."
Price: $5.45
11. Zero F*cks Given
Zero F*cks Given is a funny and fresh coloring book full of sweary sayings. It includes dozens of designs with beautiful patterns all printed on single-sided bright white paper. Expect to find sayings like "I am a delicate fucking flower," "What the actual fuck," "Silence is better than bullshit," and more. 
Moreover, the book has a relatively small square format so that you can color on-the-go. Plus, it includes a PDF version of some of the most popular illustrations for you to print additional copies if need be. 
"I enjoy this coloring book very much. The pages are plenty thick, and the swear words are absolutely delightful!"
12. 50 Shades Of Bullsh*t
50 Shades of Bullsh*t is a delectable and impolite coloring book featuring a variety of carefully curated designs. All pages are printed on a black background; thus, coloring outside the lines is not an issue. 
Pages varying from minimal to highly detailed include cute animals, leaves, and abstract patterns uniquely articulated around swear words. Within this remarkable book, you will find expressions such as "Dumbass," "You're such a dick," "Go to Hell, Bitch," and many more. 
"These pages are a lot of fun to color! I especially like the black background and wish more coloring book artists would do this. It saves a lot of ink."
Price: $5.99 
13. Eat A Bag of D*cks
From the creators of F*ckity F*ck F*ck F*ck comes this relatively new coloring book featuring 32 imaginative designs blended with curse words. This book is designed to blow off steam and will help you relax after a long day. 
Also, all pages are printed on single-sided sheets of bright, high-quality paper. Inside, you will find phrases such as "Your true soulmates is out there somewhere fucking other people," "You call them swear words, I call them sentences' enhancers," and more. 
"I got this as a present for a friend, and she absolutely loved it! The book is super durable, and the content is beyond hilarious. A perfect gift for any adult!"
Price: $5.82
14. Go F*ck Yourself, I'm Coloring
Go F*ck Yourself, I'm Coloring is part of the I'm Coloring series. A collection created by Alex Fleming, where the ultimate goal is to make you laugh. 
The book includes 26 delectable coloring pages with beautiful designs to help you relieve stress. Plus, it also comes with a digital PDF version of the book and a $15 bonus to use on other books from the collection. 
"Lots of variety in the pictures. Not super intricate, which I enjoy sometimes. The profanity is entertaining, and the accompanying art matches pretty well."
Price: $5.99
15. Potty Mouth: A Coloring Book for Adults
Potty Mouth gives adult coloring books a whole new meaning! It is a book, including 31 illustrations displaying a combination of floral and mandala designs combined with phallic and sexual profanities for your entertainment. 
Each page is printed single-sided and is suitable for all art mediums. Within this book, you can expect to find words ranging from "bitch," "dick," and "whore" to "twizzle tits" and "dick breath."
"I truly enjoy this adult coloring book! I feel like a naughty child getting all artsy coloring in this book."
Price: $8.99 
16. Peace, Love & F*cking Happiness
Peace, Love & F*cking Happiness is a different adult coloring book with a snarky take on positive affirmations and sayings. It includes 35 beautiful and sassy coloring pages designed by the talented Sasha O'Hara. 
All pages are single-sided and from moderate to detailed in complexity. Thus, you can choose what you want to color based on your mood and skill level.
Each beautiful image includes an abstract design. Pages usually contain animals or people accompanied by a subversive phrase such as: "It's been lovely, but I have to scream now," "As If," "That's MS. Bitch to you," and more.
Note that not every page on the book contains a curse word, but the overall mood of the book is irreverent.
"I love that the pages are just a tad on the edge of politically incorrect and that not all of them are sweary. The swear words that are in this book do not offend people, making it a great gift!"
Price: $5.25
17. Sweary Cat 
An adult coloring book with stress-relieving designs and patterns printed on black backgrounds. It features 20 unique illustrations made up of fury cats mixed in with expletives and intricate patterns. 
The book also includes two color test pages and is suited for all skill levels. 
"A must-buy for people who love swearing, dark humor, and cats. It also makes a very cool passive-aggressive gift!"
Price: $5.99
18. Holy Mother Forking Shirtballs
Another great book from Honey Badger Coloring, this book will definitely make you laugh. It is filled with "clean" swear words and intricate patterns that will keep you busy for hours. 
Like all the other books from this collection, it is printed on single-sided images and high-quality paper. Besides, it is perfect for all skill levels and art mediums. 
"Love this book; it has all this swearing without actually seeing it. It's hilarious!"
Price: $6.99 
19. You Can Do Whatever The F*ckety F*ck You Want
An adult coloring book full of delightfully foul-mouthed affirmations to inspire you! It includes 21 unique designs printed on single-sided and square format pages. 
Expect to see phrases like "You are fucking awesome," "You are majestic as fuck," and more. 
"What I like about this book is that it has many positive sayings on it instead of just a random cuss word. Good quality and fairly priced!"
Price: $5.99
20. Chill the F*ck Out: A Swear Word Coloring Book
A book filled with subversive and irreverent humor to relax and unwind. Chill the F*ck Out features 32 original illustrations, including animals, skulls, flowers, and butterflies, all accompanied by a swear word or curse phrase. 
Additionally, all pages are single-sided and perforated for easy framing.
"The pictures and sayings are just hilarious! You won't be able to help but crack up and put life in perspective when you're having a bad day."
Price: $8.49
There you have it! The top 20 adult coloring books featuring swear words, curse words, and other irreverent sayings for you to unwind and relax. Of course, there are many other books with similar copy readily available. So if you did not find what you were looking for on this list, we are sure there is a book out there that will match your needs!
Related Questions
1. What differentiates an adult coloring book to a children's coloring book?
No rule states that adults cannot enjoy coloring children's books. However, there is one thing that differentiates adult coloring books and children coloring books: detail. 
Usually, kids' coloring pages are made up of simple images with large areas to color. Adult coloring books, on the other hand, typically include intricate details and patterns — and it is precisely the complexity of the designs, what makes relaxation possible. 
Hence, the popularity of books that include mandalas, zentangles, and other repetitive graphics. 
2. What are the best mediums for coloring books?
There are many opinions on this subject, and unfortunately, there is no definitive answer. The best medium to use while coloring your pages will highly depend on the style you use and the pages you are coloring. 
Nonetheless, here are a few tips to consider:
– For detailed and intricate designs, use fine liner pens or colored pencils. 
– For simpler designs and shapes, try using gel pens. They are a fun medium and give your artwork an extra punch. 
– Stay away from watercolors and markers. They tend to bleed through the page and can ruin your book. 
– If you are thinking of showcasing your artwork, make sure you choose a medium that stands the test of time. Colored pencils and crayons are usually your best option. 
Need more coloring insights? Check out my free adult coloring eBook and signing up for my email newsletter HERE
Please note: This blog post is for educational purposes only and does not constitute legal or medical advice. Please consult a legal expert or medical doctor to address your specific needs.